Hi, I'm Joseph Muench – better known as "Pharmacy Joe."  I'm a Doctor of Pharmacy and Board Certified Pharmacotherapy Specialist that practices in a community hospital.  I'm married to my high school sweetheart. Listen to our kids do the audio bumper for Episode 100: Critical Care Pharmacist Workflow.
Back in 2002, I transitioned from being a community pharmacist to a hospital pharmacist. A few years later I transitioned again into the specialty of critical care.
I created this website for hospital pharmacists like you, to be the resource I wish I had when I was developing my skills in hospital pharmacy and critical care.
Explore the resources:
---
RECENT FEATURES
#1 Podcast for Pharmacists at pharmacytimes.com
The Mindset of a Clinical Pharmacist at GlobalRPh.com
Pharmacy Joe's interview on Airway Pharmacology at the Society of Critical Care Medicine:

#5 in the Top 30 Critical Care Blog Award: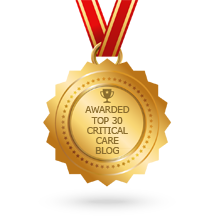 Pharmacy Joe's interview with the Pharmacy Podcast posted at pharmacytimes.com
Pharmacy Joe's interview with the Pharmacy Leaders Podcast
The secret to learning, recalling, and applying pharmacotherapy knowledge to patient care guest post on pharmacyinpractice.org
Best pharmacology resource according to propofolology.com
Shout out for rocuronium analysis at pulmcrit.org
The Best of #FOAMtox Toxicology on Life In The Fast Lane Review #225
Vitamin C in Sepsis on Life In The Fast Lane Review #276
IV lipid emulsion for drug toxicity guest post on Pedagogyeducation.com
Pharmacy Joe podcasts featured post at pharmacyinpractice.org
Pharmacy Education Is Changing – Pharmacy Joe Podcast featured post at meded101.com
The resource page at idstewardship.com
At allnurses.com – Why should nurses care about podcasts?
---
LISTEN TO THE MOST POPULAR EPISODES: