My mission is to provide you unbiased & practical critical care and hospital pharmacy information.
Hi, I'm Joe – better known as "Pharmacy Joe." I am a Doctor of Pharmacy and Board Certified Pharmacotherapy Specialist.  I am also the author of A Pharmacist's Guide to Inpatient Medical Emergencies, creator of the Hospital Pharmacy Academy and host of The Elective Rotation: A Critical Care Hospital Pharmacy Podcast.  Listen to our kids do the audio bumper for Episode 100: Critical Care Pharmacist Workflow.
Back in 2002 I transitioned from being a community pharmacist to a hospital pharmacist. A few years later I transitioned again into the specialty of critical care. Both times, it took me about 6 months to feel comfortable and another 6 months to feel confident in my new role. I did a lot of deliberate professional development at each transition to make sure I was acquiring the necessary skills. My hope is that this podcast and website will be part of your life-long learning journey, as well as my own!
The podcast episodes are concise, unbiased, current, and relevant to critical care and hospital pharmacy.  New episodes are published every Monday and Thursday at 3AM Eastern – click here to subscribe and never miss an episode!
Take a moment to browse the medical calculators and resources I use to help take care of patients.  I only recommend resources that I trust and think you will find valuable.
---
You can download a copy of my free visual critical care antibiotic guide here.
---
RECENT FEATURES
The Mindset of a Clinical Pharmacist at GlobalRPh.com
Joe's interview on Airway Pharmacology at the Society of Critical Care Medicine:

#5 in the Top 30 Critical Care Blog Award: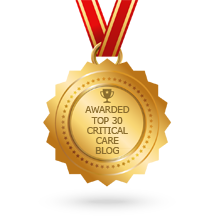 Joe's interview with the Pharmacy Podcast posted at pharmacytimes.com
Joe's interview with the Pharmacy Leaders Podcast
The secret to learning, recalling, and applying pharmacotherapy knowledge to patient care guest post on pharmacyinpractice.org
Best pharmacology resource according to propofolology.com
Shout out for rocuronium analysis at pulmcrit.org
The Best of #FOAMtox Toxicology on Life In The Fast Lane Review #225
Vitamin C in Sepsis on Life In The Fast Lane Review #276
IV lipid emulsion for drug toxicity guest post on Pedagogyeducation.com
Pharmacy Joe podcasts featured post at pharmacyinpractice.org
Pharmacy Education Is Changing – Pharmacy Joe Podcast featured post at meded101.com
The resource page at idstewardship.com
At allnurses.com – Why should nurses care about podcasts?
LISTEN TO THE MOST POPULAR EPISODES: